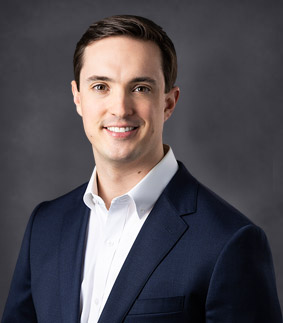 Robert G. Dekker, M.D.
Board Certified Orthopedic Surgeon
Dr. Robert Dekker is a board certified orthopedic surgeon who has dedicated his career to the advanced treatment of foot and ankle disorders. He has a special interest in sports injuries, revision surgery and minimally-invasive techniques.
Dr. Dekker was raised in Rochester Hills, Michigan and is a graduate of Rochester High School. He attended Kalamazoo College on academic scholarship where he graduated magna cum laude with the distinction of highest honors in Biology and was elected into Phi Beta Kappa Honor Society. Dr. Dekker attended medical school at the University of Michigan. He completed his orthopedic surgery residency at Northwestern University in Chicago, IL. He then completed a fellowship at the world-renowned Institute for Foot and Ankle Reconstruction at Mercy in Baltimore, MD.
Dr. Dekker is passionate about evidence-based care for common and complex foot and ankle conditions. He has authored numerous peer-reviewed publications on minimally invasive Achilles tendon rupture repair, safety and outcomes after ankle fracture surgery, and total ankle replacement vs. fusion for ankle arthritis. He has presented research at national symposiums and is a member of the American Orthopedic Foot and Ankle Society (AOFAS) and the American Academy of Orthopedic Surgeons (AAOS).
Dr. Dekker believes in a patient centered approach. Most patients with foot and ankle problems do not need surgery and can be effectively managed with bracing, orthotics, physical therapy or injections. However, when surgery is needed, he believes that advanced surgical care, rehabilitation and recovery management lead to the best patient outcomes. A personalized and caring approach is what patients can expect when consulting with Dr. Dekker.
Undergraduate: Kalamazoo College
Medical School: University of Michigan
Orthopedic Surgery Residency: Northwestern University – Chicago, IL
Fellowship: Institute for Foot and Ankle Reconstruction at Mercy – Baltimore, MD
Dr. Dekker has authored numerous publications and has presented research at national symposiums. He is passionate about evidence-based foot and ankle care. He is particularly interested in Achilles ruptures and ankle fractures, topics which he has studied extensively and published on.
Qin C, Dekker RG, II, Helfrich MM, Kadakia AR. Outpatient Management of Ankle Fractures. Orthop Clin North Am. 2018;49(1):103-108.
Dekker RG, II, Barbosa MP, Kadakia AR. Chronic Syndesmotic Injuries and Reconstruction. Techniques in Foot and Ankle Surgery. 2017;16(3):141-149.
Dekker II RG, Qin C, Lawton C, Muriuki M, Havey RM, Alshouli M, Patwardhan AG, Kadakia AR. A Biomechanical Comparison of limited open versus Krackow Repair for Achilles Tendon Rupture. Foot and Ankle Orthopaedics.2017;2(3):1-7. Doi: 10.1177/2473011417715431
Lawton, C.D., Butler, B.A., Dekker II, R.G., Prescott, A., Kadakia, A.R. Total ankle arthroplasty versus ankle arthrodesis-a comparison of outcomes over the last decade. J Orthop Surg Res, 2017. 12(1): p. 76.
Dekker II, RG, Kadakia, AR. Anterior Approach for Ankle Arthrodesis. JBJS Essent Surg Tech 2017 Apr 12; 7 (2): e10. https://doi.org/10.2106/JBJS.ST.15.00066
Kadakia, A.R., Dekker II, R.G., and B.S. Ho, Acute Achilles Tendon Ruptures: An Update on Treatment. J Am Acad Orthop Surg, 2017. 25(1): p. 23-31.
Dekker II, R.G., 2nd, Qin, C., Ho, B.S., Kadakia, A.R. The effect of cumulative glycemic burden on the incidence of diabetic foot disease. J Orthop Surg Res, 2016. 11(1): p. 143.
Qin C, Dekker II RG, Blough JT, Kadakia AR. Safety and Outcomes of Inpatient Compared with Outpatient Surgical Procedures for Ankle Fractures. J Bone Joint Surg Am, 2016. 98(20): p. 1699-1705.
Nader A, Kendall MC, Manning D, Beal M, Rahangdale R, Dekker II RG, De Oliveira Jr., GS, Kamenetsky E, McCarthy RJ. Single-Dose Adductor Canal Block With Local Infiltrative Analgesia Compared With Local Infiltrate Analgesia After Total Knee Arthroplasty: A Randomized, Double-Blind, Placebo-Controlled Trial. Reg Anesth Pain Med, 2016. 41(6): p. 678-684.
Academic:
June 2009 – Present Phi Beta Kappa Honor Society
2016 American Orthopedic Foot & Ankle Society Resident Scholarship Recipient
2009 – 2013 The University of Michigan Medical School Irving A. Fields, MD Scholarship Recipient
2005 – 2009 Kalamazoo College Honors Scholarship Recipient
Athletic:
2009 NCAA Post-Graduate Scholarship Recipient
2009 C.W. Opie Davis Award Recipient given to most outstanding male athlete at Kalamazoo college
2009 NCAA CoSIDA/ESPN The Magazine Academic All District IV First Team
2009 College Swimming Coaches Association of America Scholar All-American
2007 – 2008 Kalamazoo College Men's Swim and Dive Most Valuable Swimmer
2005 – 2006 Kalamazoo College Men's Swim and Dive Most Valuable Freshman Swimmer
2005 – 2009 Kalamazoo College Men's Varsity Swimming

Three-time NCAA All-American
Four-time NCAA Academic All-American
Four-time All-Conference Team

1994 – 2005 Oakland Live Y'ers Swimming
Grants:
2017 Northwestern University Department of Orthopedic Surgery Research Grant Recipient
2016 Northwestern University Department of Orthopedic Surgery Research Grant Recipient
2008 Recipient of Howard Hughes Medical Institute Research Grant
2007 Recipient of Howard Hughes Medical Institute Research Grant
Dr. Dekker's area of Expertise includes: